One of the well-known mantras of the ketogenic diet is very low carb intake and high fat intake. But there's another nutrient that's important to monitor when going keto—and a lot of people make the mistake of not considering its importance. That would be protein.
Although protein is a critical element in the diet we need for optimal health, it's important to not eat TOO much protein on the ketogenic diet. Why? Well, there are a couple reasons that we'll be discussing below.
How Too Much Protein is Bad for Ketosis
The biggest energy source on the ketogenic diet is fat. In fact, around 75% of your diet should come from healthy fat sources. The key here is that, unlike the traditional idea of low-carb diets where protein is higher, protein intake should bemoderate, not high, on keto. Not following this advice will never allow your body to enter ketosis, which is the main point of going keto and reaping all of the amazing benefits.
The reason too much protein is bad for ketosis is because our bodies have a fundamental energy process called gluconeogenesis. For a deeper dive into the topic, see our post on fixing the biggest ketosis mistakes. For now we shoud know the basics. Let's break it down this mouthful of a term. The word gluconeogenesis has three parts to it,
Gluco – coming from the greek root glukos – literally meaning "sweet wine."
Neo – "new"
Genesis – "creation"
So a great way to think about it is this is how your body creates new sweet wine for your body. Some people tout that "you don't need carbohydrates to survive," which is only partially true. To clarify, you don't need to eat any carbs to survive, but make no mistake, your body needs carbs in the form of glucose and glycogen, and it will get this via survival mechanisms like gluconeogenesis.
Why Gluconeogenesis is Bad for Ketosis
The body's preferred source of fuel is glucose, which it gets first from carbohydrates on a standard diet. However, if enough carbs aren't present, which is the case when you're eating low-carb or ketogenic, the body will have to turn to other sources for energy.
The purpose of the keto diet is to have the body break down fatty acids, which then produces ketones for energy—the process known as ketosis. Those following a ketogenic diet know that monitoring ketones in the body is how you know you're in ketosis.
However, there's another way the body can create carbohydrate-style energy in the body—by breaking down amino acids from the protein in your muscles. Gluconeogenesis (GNG) is how your body turns protein into glycogen that can be used as glucose to burn for fuel.
Why is this bad? There are two big reasons:
When the body turns to protein for fuel, it keeps your body from going into ketosis. This stalls any long-term progress from the keto diet and you won't reap the benefits that come from using ketone bodies for energy, burning through fat, and reducing your body's reliance on carbs for fuel.
Plus, it's bad news when the body turns to your lean muscle mass for fuel. This isn't good for your physique, or your physical performance, or your health.
Avoiding Too Much Protein
Even if you're eating plenty of fat, if you also eat too much protein, your body can facilitate GNG instead of burn fat for energy. This means that you could spend your whole time thinking you're eating keto while not actually being in ketosis. And who wants to go to all that effort without getting actual results?
The key is to maintain a high amount of fat intake, a moderate amount of protein intake, and a very low carb intake. This ensure your body still has the adequate protein it needs for cell and tissue function and muscle growth.
What to Measure: Protein and Ketones
There are two main ways to make sure you enter and stay in ketosis in regards to protein: (1) figuring out the amount of protein that's right for you without it being too much (or too little) and (2) measuring your ketone levels.
Measuring Protein
For those who aren't endurance athletes and expend a normal amount of energy each day, the macronutrient percentages on the keto diet are generally:
75% fat
20% protein
5% carbohydrates
Also, a good protein rule of thumb per day is typically around 0.7 to 0.9 grams of protein per pound of lean body mass. Go on the high end for workout days and low end for rest days.
Still, these percentages and numbers are quite vague and hard to calculate without knowing your specific measurements. What's tricky is that it all depends on your individual needs.
You can follow this process for determining your protein requirements on the ketogenic diet:
Calculate your calories on the site, then enter the nutrient percentages above (60% fat, 35% protein, 5% carbohydrate) to calculate your gram totals per nutrient group. Use this as your starting point for the amount of daily protein you consume. (You can see this post for my experience modifying my meals to moderate amounts of protein for ketosis.)
From there, you can monitor your ketone levels to ensure this amount is right for keeping you in ketosis. Then, it's important to strictly stick to that number each day. Even the smallest variation can mess with your results!
You should also note that your protein numbers might change as you stick to keto and experience any weight and fat loss, so continue to re-calculate your weight and calorie intake regularly—around every other week.
Measuring Ketones
Even if you think you have your macros on point, the only way to truly know if you're in ketosis is by measuring it. There are three main ways to test your ketone levels: through urine testing, blood testing, or breath testing. (Our testing guide covers the different ways to test your ketone levels.)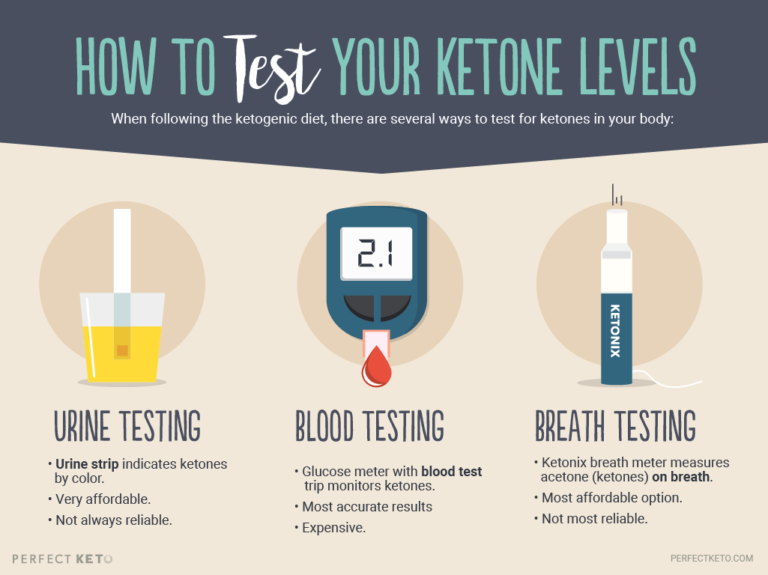 Including exogenous ketones is another great way to help get yourself back into ketosis immediately. It's a good idea to have some of it available during the process. If you eat too much protein, they can bump you right back into a ketogenic state. Need some ideas on moderate protein meals? Dr. Gustin has us covered for keto breakfasts.
Test frequently, paying close attention to your macros and how your readings respond after you eat. If you keep the idea of moderate protein in the back of your head, it can help you remember to not overdo it at each meal. With this information in mind and a lot of discipline, you'll be rocking full-blown ketosis and reaping the rewards before you know it.
Remember that low-carb does not guarantee ketosis. You could eat zero carbs and not be in ketosis. Too much protein will take the keto out of your ketogenic diet. Test don't guess 🙂