More and more people are going keto as they learn about the benefits of this super-low-carb way of eating. But those who need the "why" behind it—or who need facts to present to skeptical friends or family—might be wondering HOW does ketogenic diet work exactly? What is it about going keto that can work so well for weight loss and health?
THE BASICS
The most basic thing to know about the ketogenic diet is that it gets the body burning fats for fuel instead of carbohydrates (when followed properly). But how? Let's break it down:
Burning Fat for Energy
When the average person eats a meal rich in carbs, their body takes those carbs and converts them to glucose for fuel. Iinsulin is then made to move that glucose into the bloodstream. Glucose is the body's primary source of energy when carbohydrates are present.
However, things are different on keto. On the ketogenic diet, your carbohydrate intake is kept very low—so when those carbs aren't present, your body must utilize another form of energy to keep things ticking.
That's where fats come in. In the absence of carbs, the liver takes fatty acids in the body and converts them to ketone bodies, also known as ketones, as an energy source. This process is known as ketosis, and it's the goal for those on a ketogenic diet.
Three ketones are made when fatty acids are broken down:
Acetoacetate (AcAc): created first during ketosis
Beta-hydroxybutyric acid (BHB): formed from acetoacetate
Acetone: created spontaneously as a side product of acetoacetate
THE BENEFITS
The original purpose of the ketogenic diet was to prevent epilepsy in children. But since then, it's been utilized for all sorts of reasons. Some of the best and most popular benefits of the ketogenic diet include:
Better mood [1]
Better sleep [1]
Satiety [1][2]
Mental clarity [2]
Fat loss [2][3][4]
Better skin [4]
For more details on this, check out our guides on keto for exercise, mental edge, and fat loss.
KETO MACRO BREAKDOWN
Keto means eating a lot of fat! And who wouldn't consider that a perk, right?
The macro breakdown comes to high fat, moderate protein, and very low carb: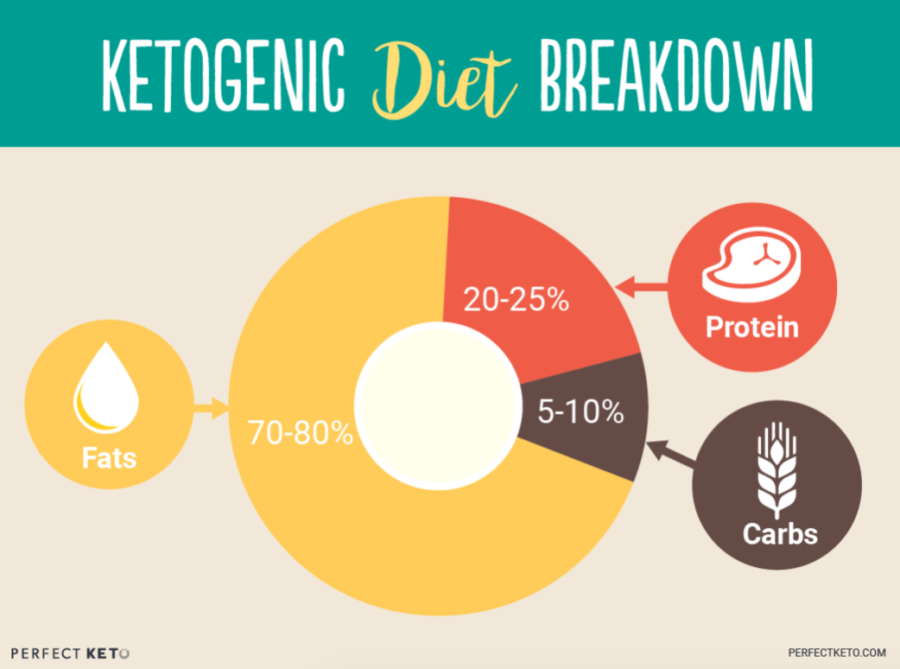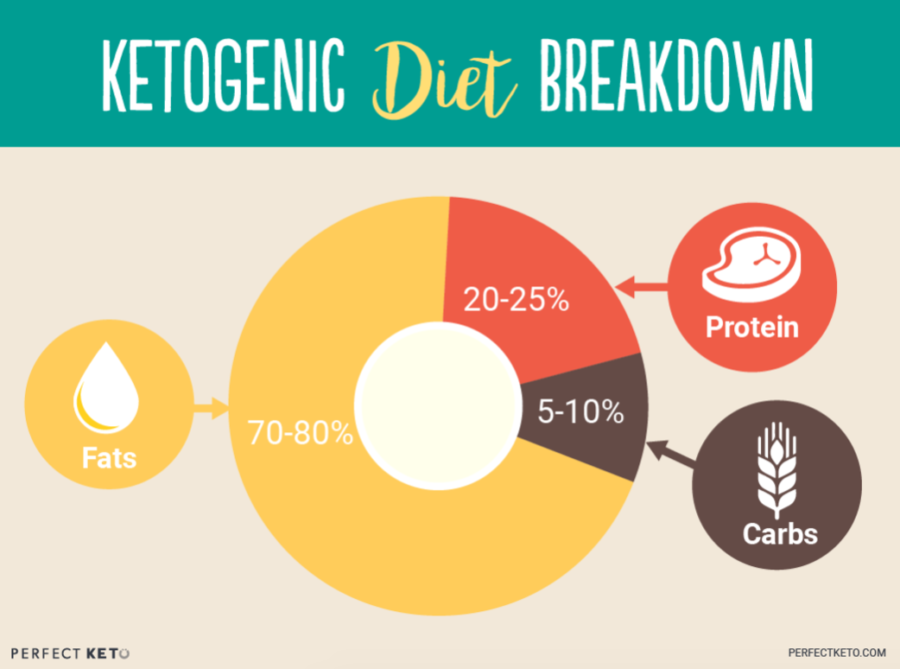 Those used to eating low-carb already might find they need to eat even less dietary carbs to achieve a healthy state of ketosis — and also be mindful of protein amounts.
AVOIDING GLUCONEOGENESIS: WATCH YOUR PROTEIN
So, moderate protein is important here. If your protein intake is too high when carb intake is very low, the body will start to break down protein instead of fat. This process is known as gluconeogenesis, and it's not only the enemy of ketosis but also a good way to waste your precious lean muscle mass that is needed for a healthy body.
Plus, this can raise your insulin and blood sugar levels, which also affects ketone production.
These ratios can vary depending on specific people, so start by plugging the percentages into an online calculator based on your caloric intake. (Freedieting.com and KetoDietApp are both great for this.) Then, experimenting to find your perfect balance is key—along with checking your ketone levels.
Taking exogenous ketones can also help bump you back into ketosis if you happen to eat too much protein.
BECOMING KETO-ADAPTIVE
Ketosis is a natural function of the body. In the most extreme measures, it happens if someone is starving. Those in keto are, in a sense, "starving" the body of carbs to condition the body to turn to fat for fuel.
When you're first adapting your body to running in ketosis, initially, it be a little rough. But as you stick with it, your body begins to prefer fat as energy and becomes keto-adaptive a.k.a. basically, a fat-burning machine.
So, how do you make sure your ketogenic diet is "working" and you're maintaining a state of ketosis? By checking your ketone levels — frequently.
HOW TO CHECK KETONE LEVELS
Testing ketone levels in your body is the only true way to know whether or not you've entered (and remain in) ketosis. This is important to be sure you're reaping the full benefits of the ketogenic diet here.
When your body starts burning fat for fuel and enters ketosis, the ketones it creates will spill over into your urine, blood, and breath—so it's possible to test for them in each area.
Thankfully, there are several methods for testing your ketone levels at home:
Urine testing: You can buy urine strips that indicate your ketone level by color. These can usually be bought at your local drugstore or pharmacy for a low cost.
The downside of urine testing is that they aren't always reliable, especially if you've been in ketosis for a while. When you're more efficient at using ketones, a lower level of ketones might show up — even if you're burning through them.
Other factors can affect the reading too, such as hydration and electrolyte levels.
Breath testing: Acetone is the ketone that shows up on the breath, and you can test it using a breath meter.
After purchasing the breath meter, there are no ongoing costs for testing like with urine strips. However, this method isn't the most reliable and usually shouldn't be your sole method for testing.
Blood testing: This is the most accurate way to monitor ketone levels. Using a blood glucose meter, you can check ketone levels using a blood strip. Just be warned that this method can be pricey if you test frequently.
For best results, you'll (ideally) be providing your body with optimal nutrition from rich, healthy fat sources, nutritious protein, and other foods that provide the vitamins and minerals the body needs. See our ketogenic diet food list for exactly what to eat to get keto working best for you.
Sources:
[1] Johnston CS, Tjonn SL, Swan PD, White A, Hutchins H, Sears B. Ketogenic low-carbohydrate diets have no metabolic advantage over nonketogenic low-carbohydrate diets. Am J Clin Nutr 2006;83:1055–61.
[2] Murray RK, Granner DK, Mayes PA, Rodwell VW. Harpers illustrated biochemistry. 26th ed. New York, NY: Lange Medical Books/McGraw-Hill,2003.
[3] Bender, DA. Introduction to nutrition and metabolism. 3rd ed. New York, NY: Taylor & Francis, 2002.
[4] Ezrin C, Kowalski RE. The type II diabetes diet book. Los Angeles, CA: Lowell House, 1995.