How many times have you gone to reach for the barbecue sauce and got a glance of the  nutrition facts before you put the bottle down in shock?
Most individuals on the ketogenic diet know the struggle is real to find low carb or keto friendly sauce to go with your favorite protein dish. You already have a limited carb count before you get kicked out of ketosis, no need to waste those calories on some sauce.
The average barbecue sauce from the store can get up to 16 grams of carbs per one serving of only two tablespoons.
Gulp
Now you can enjoy barbecue sauce without the worry of going over your carb limit for the day. With the benefit of making the sauce, you'll know exactly going in it, too, so you can avoid any artificial ingredients.
With the option of making the barbecue sauce yourself, you can also make it as sweet or spicy as you desire.
Some of the main ingredients in this barbecue sauce include
Tomato sauce
Apple cider vinegar
Hot sauce
Worcestershire sauce
Brown mustar
Onion powde
Garlic powder
One of the ingredients you don't see too often in many foods is apple cider vinegar. While it's not commonly used, it should be — it's a nutritional powerhouse. Some of the benefits include:
Increases healthy

weight loss

Improves heart health

Improves skin healt
#1: Increases Healthy Weight Loss
A study published by Bioscience, Biotechnology and Biochemistry showed just how effective consuming apple cider vinegar (ACV) is on weight loss. They took subjects that consumed two tablespoons of ACV a day over a 12 week period and saw that the individuals lost almost four pounds of weight without any other lifestyle modifications made[*].
#2: Improves Heart Health
ACV has been shown to reduce "bad" LDL cholesterol (low-density lipoproteins) while also increasing "good" HDL cholesterol[*]. This helps the heart function properly since cholesterol can build up in the arteries and harden, making the heart work harder than it should be.
#3: Improves Skin Health
Did you know that ACV contains important elements such as acetic acid, lactic acid, succinic acid and citric acid? These different acids have all been shown to prevent the growth of certain bacterias that are known to cause acne[*].
The next time you're making up one of your favorite low carb sauces, try adding apple cider vinegar in for the benefits and that little extra kick. No need to stress about what sauce you could use on your favorite meats and veggies — now you can make your very own sauce and make it as spicy as you'd like with this low carb barbecue sauce. Try it with BBQ Pulled Beef Sando for a dish made for the whole family.
This sauce is easily customizable to your preferences without increasing the carb content. Looking for heat? Add a touch more hot sauce and cayenne pepper!
Like your BBQ sauce a little more tangy? Add an extra dash of apple cider vinegar!
Smokey Keto BBQ Sauce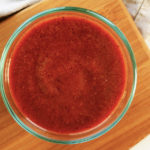 Most BBQ sauces are packed with sugar and carbs (up to 16 g for one serving!) This keto BBQ sauce allows you to enjoy your BBQ sauce without getting kicked out of ketosis.
Author:
Prep Time:

5 minutes

Cook Time:

30 minutes

Total Time:

35 minutes

Yield:

12 oz

Category:

Sides

Cuisine:

American
Ingredients
8 oz. tomato sauce
2 tbsp apple cider vinegar
1 tbsp hot sauce
1 tbsp Worcestershire sauce
2 tsp liquid smoke
2 tsp brown mustard
1 tbsp monk fruit sweetener
1 tsp chili powder
1/4 tsp cayenne pepper
2 tsp onion powder
1/2 tsp garlic powder
1/2 tsp salt
Instructions
To a small pot, add all ingredients.

Over medium heat, bring sauce to a boil


Reduce heat to low and simmer for 30 minutes.

Allow to cool slightly before serving. Store in refrigerator.
Nutrition
Serving Size:

1 oz

Calories:

25

Fat:

0.2g

Carbohydrates:

7.1g (Net Carbs: 4.9g)

Protein:

0.4g
Sara is the face behind Real Balanced, a blog dedicated to sharing low-carb recipes. She lives in Milwaukee with her husband and their Boston terrier.