Healthful 5 ingredient chocolate bars that will boost your energy, mind power, stamina, and level of ketosis.  Sounds too good to be true doesn't it?  This homemade "candy bar" is perfect for anyone on a ketogenic diet who also happens to have a serious craving for some rich and creamy chocolate.  With only a handful of ingredients and just two recipe steps, you will be well on your way to replacing that expensive bar of chocolate you've been buying that's loaded with unfamiliar ingredients and additives
The main ingredients used are:
These ingredients are all powerhouses for energy.  Not only that, they also manage to pack in benefits such as vitamins, minerals, antioxidants, and fiber.  Let's take a closer look.
Cacao Butter
Raw cacao butter or cocoa butter is the pure, cold pressed oil of the cacao bean and is an amazing source of compounds including oleic acid, palmitic acid, and stearic acid.  These antioxidants help neutralize free radicals and reduce the amount of oxidative stress on the body.  This is key in maintaining healthy and youthful healthy skin.  The antioxidants in cacao butter also help boost immunity and fight inflammation.  It's also a rich source of magnesium and contains phenylethylamine which is responsible for our mood and mental alertness.
MCT Oil
MCT's or medium chain triglycerides are considered the ultimate energy source in the keto space.  Unlike traditional coconut oil, MCTs help make ketones readily available for the body to use.  They are quickly absorbed and metabolized for energy because they reach the liver quickly unlike other types of fat.  MCTs are also wonderful for quick energy because they cross the double membrane of the mitochondria which are the powerhouse of each and every cell in the body.
Maca Powder
Maca root is a popular adaptogen native to the Andes of Peru.  Adaptogens are known to help the body adapt to stressors the body deals with on a daily basis such as a hectic work schedule.  It's rich in antioxidants, helps to balance and regulate hormones, and also naturally boosts energy and mood.  Many athletes take maca root to increase stamina and performance.  It's a wonderful remedy for ongoing fatigue and adrenal issues as well.
These key ingredients will provide you with clean, sustained energy that will not leave you feeling lethargic or have you crashing from a sugar rush shortly afterwards.  So the next time you find yourself craving something sweet, creamy, and chocolatey take a few minutes and whip up a quick batch of these healthful chocolate bars.  These are the ultimate chocolate fix.
Print
Healthy Homemade Keto Chocolate Bars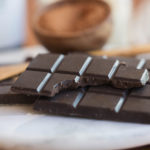 Overcome that nagging sugar craving with these zero guilt homemade keto chocolate bars which will leave you with tons of energy and a boost in your ketones.
Author:
Prep Time:

5 minutes

Cook Time:

N/A

Total Time:

5 minutes

Yield:

24 pieces

Category:

Dessert

Cuisine:

American
Ingredients
40g raw cacao butter
2 tablespoons 100% C8 liquid MCT Oil
3 tablespoons coconut milk or heavy cream
2 teaspoons maca powder
2 tablespoons unsweetened cacao powder
1/4 teaspoon cinnamon (optional)
Instructions
Add all ingredients to a small pot and cook under low heat until cacao butter is completely melted. Turn off heat and mix well until smooth.

Pour contents into a chocolate bar silicon mold. Freeze for 10 minutes until set.
Nutrition
Fat:

2g

Carbohydrates:

Net Carbs: 1g

Protein:

0g
Keywords: keto chocolate bars
Corina Nielsen-Thomas lives in sunny San Diego with her real life super hero and her beautiful daughter. A handful of years ago she was diagnosed with an incurable spinal disease and an array of medical conditions which left her nearly bed bound and losing every aspect of her normal life, one by one. Corina has used a ketogenic diet to turn her life around and now works as a nutritional coach specializing in a paleo/keto way of eating for optimally health and healing. She also works as a full recipe developer and blogger who is passionate about utilizing food as fuel and medicine.