While the popularity of the ketogenic diet continues to climb and more people begin to recognize all the different health benefits it provides, the next question is: which type of ketogenic diet is best for you?
Yes, surprisingly, there's more than one type of ketogenic diet.
It's important to choose the ketogenic diet that best fits your individual needs and health goals. Each type of diet is good for a certain lifestyle.
The Four Keto Diet Types
There are four different keto diets you can follow depending on your goals.
For example, if you're an individual who leads a very active lifestyle or if you're an athlete that performs high intensity training, there's a keto diet for you. If your goal is to simply lose fat and reach your optimal health, there's a diet for you as well:


Each diet type differs in the recommendednet carb intake per day.
What are net carbs anyway?
When following the ketogenic diet, the idea isn't to remove carbs completely from your diet. The goal is to make sure your body doesn't rely on them as the primary source of energy or fuel. The saying, 'not all carbs are created equal' is held true in the ketogenic diet.
Net carbs are the actual amount of carbs you're left with once you subtract the grams of fiber per serving from the total amount of carbs per serving (Net Carbs = Total Carbs – Fiber).
#1: The Standard Ketogenic Diet
Best for
: Beginners to the keto diet, anyone who wants to lose body fat, those with insulin resistance and therapeutic purposes.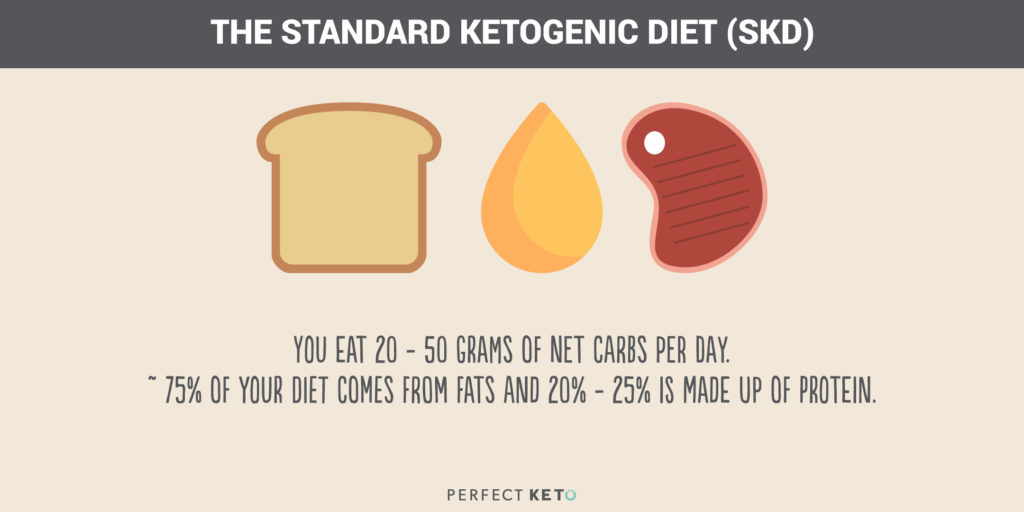 The Standard Ketogenic Diet (SKD) is the most common version of the ketogenic diet and by far the best version of the diet to start off with if you're just starting keto.
This diet is the one used to describe the ketogenic diet and is the best type for the vast majority of people to follow.
The basic rules are:
Consumption of

20-50 grams

of

net carbs per day

Adequate protein intake (0.8 grams of protein per pound of lean body mass)

High fat intake
An intake of 30 grams of net carbohydrates or less will typically induce ketosis.
#2: The Targeted Ketogenic Diet (TKD)
Best for
: People who know their bodies in ketosis and people who want extra workout energy.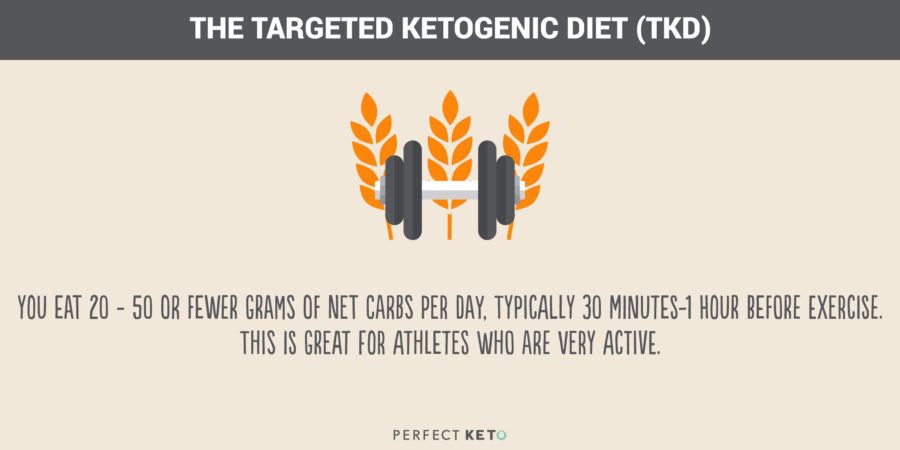 The Targeted Ketogenic Diet (TKD) is "targeted" for workout energy specifically. "Targeted" meaning eating directly before or after workout times.
The TKD is best for individuals who know their limits and what pushes their body out of ketosis. This type of ketogenic diet is ideal for maintaining exercise performance and allows for glycogen re-synthesis without interrupting ketosis for long periods of time.
If you are looking to try TKD, aim for 25-50 grams of net carbs or less around 30 minutes to an hour before exercise. This would make up your carb intake for the day.
This type of diet is good for individuals who won't (or don't need to) partake in long carb loads like the cyclical ketogenic diet (CKD), and aren't ready to perform the amount of exercise needed to optimize a CKD diet.
High Glycemic Index Carbs
The type of carbohydrates ideal for TKD are easily digestible carbs with a high glycemic index.
Choose foods high in glucose and avoid fructose. Fructose would replenish the liver glycogen instead of muscle glycogen which is what the keto diet tries to avoid.[*]
This helps avoid disruption of ketosis because the carbs are burned quickly and effectively for training. If you're getting the majority of your carb intake around your workout times, make sure hidden carbs don't become an issue throughout the rest of the day.
Both TKD and CKD are typically used in high intensity exercise, however being an athlete or leading an active lifestyle does not mean you have to do either TKD or CKD.
Extra carbs have always been recommended to those who live active lifestyles or athletes who perform high intensity exercise on a regular basis, however recent studies show this doesn't have to be the case.
#3: The Cyclical Ketogenic Diet (CKD)
Best for
: Bodybuilders, athletes, and those who have experience following a keto diet.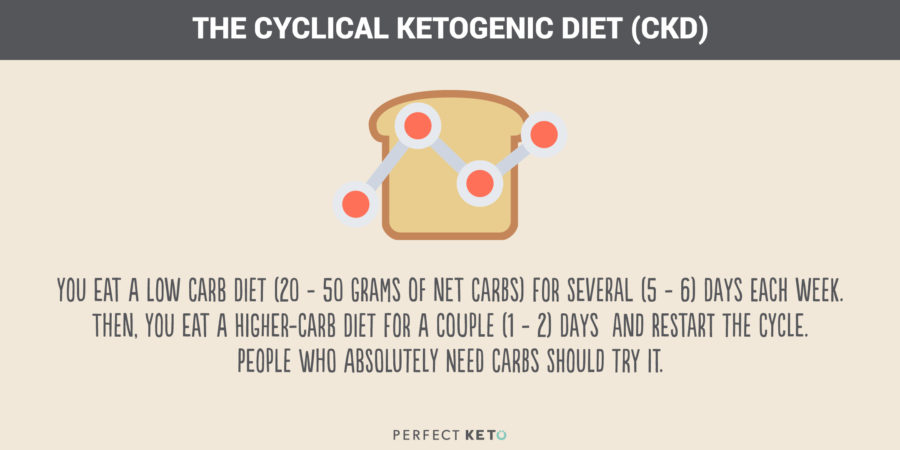 The cyclical ketogenic diet (CKD) is similar to the idea of intermittent fasting, including 'down and up' days, or a 5/2 day cycle. The CKD involves eating a low-carb, keto diet for several days followed by a day or two of eating high carb. This is called "carb-loading."
Carb-loading is alternating days of following a ketogenic diet with days of high-carb consumption. The high-carb days can last anywhere from 24-48 hours. CKD usually requires about 50 grams of carbohydrates per day during the first phase and about 450-600 grams of carbohydrates during the carb loading phase.
Like the TKD, the CKD is also better for people who know their limits and cannot break through their individual boundaries without the use of carbohydrates.
This type of ketogenic diet is best for bodybuilders and other athletes to help maximize fat loss while building lean mass.
More advanced athletes who perform a lot of high volume and high intensity would be at the highest advantage for the optimization of this type of keto diet. The goal of CKD is to completely deplete muscle glycogen between the carb loads while the TKD has a goal of maintaining muscle glycogen at a moderate level.
#4: The High Protein Ketogenic Diet
Best for
: Those who want to follow the Standard Ketogenic Diet but want or need more protein in their diet.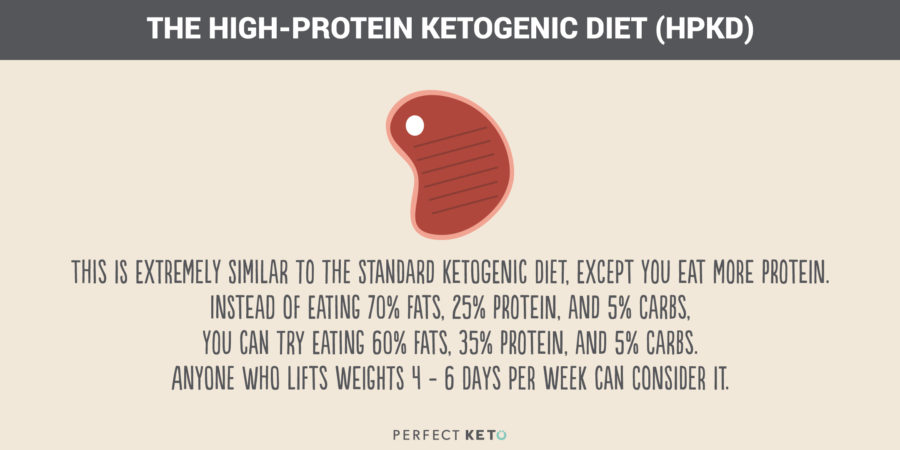 The high protein ketogenic diet is similar to SKD, but with additional protein.
While you're adding protein to your diet in the SKD, it won't be enough to elevate your blood sugar and kick you out of ketosis.
There is a misconception about the keto diet — that eating too much protein can put you out of ketosis because of gluconeogenesis (GNG). That's just a myth.
GNG is an extremely stable process. It's not easy to increase the rate of GNG even with extra protein.
Gluconeogenesis (making glucose from non-carbs) doesn't work at the same rate as carbohydrate metabolism (making glucose from carbs).
When you eat chocolate cake, your blood glucose spikes in response to that sugar in a small window of time.
When you eat extra protein, your blood glucose doesn't spike the same way because GNG remains stable.
Check out this video to learn more about why gluconeogenesis isn't a problem on keto:
The Types of Keto Diets and Muscle Maintenance
Worried about losing muscle on the keto diet? There are a few mechanisms that contribute to muscle maintenance and growth on the keto diet.
We know by now that during ketosis, the liver produces ketones in the absence of carbs. These ketones contain protein-sparing properties which prevent the breakdown of muscle. The main ketone, beta-hydroxybutyrate (BHB), has been shown to promote protein synthesis.[*]
Adrenaline is also an important factor in preserving muscle mass during ketosis. When blood sugar is low, it sends a strong signal for adrenal secretion. This secretion has shown that skeletal muscle protein mass is also regulated by adrenergic influences.[*]
When our blood glucose drops from the decreased carb intake, our bodies transmit a signal to the adrenal gland, telling it to release epinephrine. Muscle protein is affected by these influences by the adrenal gland due to their hormonal activity of inhibiting the breakdown of muscle.
The next mechanism brings us back to the high protein ketogenic diet. This diet puts emphasis on a higher protein intake than usually recommended while in ketosis.
Adequate protein intake is an important factor in maintaining muscle mass.
Though it first looks like a rather low intake of protein, remember that once your body becomes keto-adapted, utilizing fats and ketones for energy allow it to depend on these fuel sources instead of protein.
So you'll always have a sufficient amount of protein on the ketogenic diet if you follow the macro recommendations.
What's the Best Type of Keto Diet For You?
There's no straight forward answer to which type of keto diet will give you the best results or quickest fat loss.
The old 'calories in vs. calories out' rule is only true to an extent. This rule doesn't take into account what type of weight you're losing, like whether or not it's body fat or lean mass.
While this rule seems simple enough — indicating that it doesn't matter what you eat as long as you eat less than you expend — there are a lot of other variables that are put into play.
Sure, a caloric deficit will most likely result in weight loss, but some of the weight loss could be coming from muscle. In fact, research indicates that while the keto diet requires only 15-25% of your intake to be protein, even during a caloric deficit in ketosis, muscle mass can be preserved.[*][*]
When it comes down to choosing which type of keto diet is the best fit for you, we recommend starting off with the Standard Ketogenic Diet.
For beginners new to keto, this type of ketogenic diet will get your body adjusted the quickest as well as make your transition into ketosis the easiest.
Even if you're an athlete used to burning high amounts of glucose, starting with the standard keto diet will guarantee the alteration of your metabolism so there's no question of whether or not you're actually in ketosis.

Once your ketone levels are high enough, adding in carb-loading may become an option. However, carb-loading isn't meant to be used as a cheat in case you're craving carbs! Make this decision wisely as any high-carb days may result in kicking you out of ketosis and taking up to a week to get back into it.
Steph is a writer, competitive weightlifter and nutritional consultant with a passion for health and wellness. She is the founder of The Athlete's Kitchen, a website dedicated to providing its audience with articles, recipes and the latest nutritional information on their favorite foods.