For goodness sake, stop opting for the store-bought dessert whose ingredients are fake. Your health and wellness is at stake. Instead, try our Perfect Keto Butter Mug Cake, which is not only delicious, but unbelievably easy to make.
The main ingredients in this mug cake include:
Our Perfect Keto Nut Butter is the star of the show in this recipe. It contains keto-friendly ingredients like:
These healthy fats, along with the perks of eggs and almond flour make this cake a health food, not just a treat!
3 Health Benefits Of This Mug Cake
#1. Provides The Best Fats For Your Keto Diet
Let's take a closer look at what makes Perfect Keto Nut Butter ideal for ketoers:
Macadamia nuts are 75% fat and have one of the lowest carb counts. They contain 21.2 grams of fat, 2.2 grams protein, and 1.6 grams net carbs per a one-ounce serving.
Cashews contain 12.4 grams of fat, 5.17 grams protein, and 7 grams of net carbs per a one-ounce serving [*].
Coconut butter, not to be confused with coconut oil, contains 9.6 grams of fat, 1 gram of protein, and 3 grams of net carbs per serving.
MCTs (or medium chain triglycerides) are one of the best fuel source for ketoers. They're digested quickly and don't require any other enzymes to be absorbed by your body, so your cells can use it for energy almost immediately. It also raises your blood ketones and helps keep you in ketosis.
#2: Gives Your Brain and Skin A Boost
Eggs are not only an amazing source of protein, they're also rich in choline, a nutrient that greatly assists in liver and brain development. After it's digested, choline turns into acetylcholine, an important brain neurotransmitter.
Choline is an essential nutrient, which means we must get it from our food, and eggs are one of the few excellent food sources.
Eggs also contribute to joint and skin health because they contain lutein and zeaxanthin[*].
#3. Aids Heart And Metabolic Health
Almond flour provides all the health benefits of raw almonds. It helps reduce high blood pressure by increasing blood flow, which contributes to optimal heart health[*], and it regulates blood sugar by decreasing high insulin levels in your blood[*]. You can also use almond flour to make endless keto desserts like this one.
This recipe couldn't be any easier. In fact, you'll probably think you forgot some steps, but you didn't. It really is this simple. Mix the ingredients, pour them into your ramekin, microwave, and enjoy this decadent treat that will keep your keto needs appeased.
Print
Single-Serve Nut Butter Keto Mug Cake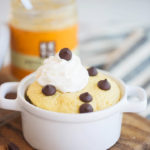 Author:
Total Time:

2 minutes

Yield:

1 mug cake
Ingredients
1 large egg

1 packet stevia

2 tablespoons almond flour

1/2 teaspoon baking powder

1 tablespoon Perfect Keto Nut Butter (softened)

2 teaspoons coconut flour

1 heaped tablespoon milk of choice
OPTIONAL
1/2 tablespoon sugar chocolate chips
Instructions
Grease a small mug or ramekin with non stick spray or butter.

Pour all cake ingredients (except optional chocolate chips) into a small bowl. Mix well until smooth. Pour into prepared dish.

Once in prepared dish, microwave on high for 2-2:30 minutes.
Nutrition
Serving Size:

1 mug cake

Calories:

272

Fat:

22g

Carbohydrates:

Net Carbs: 4g

Protein:

12g
Corina Nielsen-Thomas lives in sunny San Diego with her real life super hero and her beautiful daughter. A handful of years ago she was diagnosed with an incurable spinal disease and an array of medical conditions which left her nearly bed bound and losing every aspect of her normal life, one by one. Corina has used a ketogenic diet to turn her life around and now works as a nutritional coach specializing in a paleo/keto way of eating for optimally health and healing. She also works as a full recipe developer and blogger who is passionate about utilizing food as fuel and medicine.