If your grocery budget is tight but you still want to eat well, don't worry. Eating a high-quality ketogenic diet on a budget is more than possible. It just takes a little extra planning and staying clever with available resources. You may even find you are saving money compared to quality high carbohydrate diets (or of course, the awful typical American diet).
At Perfect Keto we call it the Return On Ketosis (ROK). Many of us find that while we make some initial investment in overhauling our kitchen with ketogenic friendly foods and supplements, they end up saving money in the long-run. So not only is this post about how to do the ketogenic diet on a budget, it shows how to examine if ketosis is actually helping your budget.
First, here are our best tips for saving money while eating keto:
Top 9 Tips to Maximize the Ketogenic Diet on a Budget
Buy in Bulk
When you're trying to save money on food, bulk shopping is where it's at. It's tempting to shop at Whole Foods for your items — or even your regular local grocery store — but you're not gonna find bargain prices (most of the time) this way as much as you can buying from wholesale stores.
And when you find a good deal here, take advantage! Stock up, and plan to stretch it out. It's more money upfront, but the savings can be ridiculous (Just make sure you actually use the food you buy in bulk — don't let it sit forgotten in your freezer). Use our full list of keto foods to avoid, to help dodge bullets at the store! 🙂
Cook in Bulk (and Freeze)
If you're already buying the food in bulk amounts — cook in bulk too! A lot of on-the-go foods you can buy just aren't gonna cut it when you're eating keto, so batch cooking is an awesome way to make sure you always have meals and snacks in the house. Not only will this save you money, it'll save you time as well:
Choose one day each week to do your meal prepping and cooking. Sunday works for most people, but it might be a different day depending on your schedule. You might choose to also do your shopping on the same day. (The day itself doesn't matter as long as you set aside time at least once a week for each task.)
Portion meals out into containers for easy grab-n-go. If you're prepping for meals more than a week in advance, you'll want to utilize that freezer space.
Enjoy your pre-portioned and prepped keto meals on a budget without any extra work during the week. That-a-way to set yourself up for success.
Look for Offers & Discounts
Simple right? I know I don't take the little bit of time it takes to find some awesome deals. When you shop at the grocery market, look for deals and discounts and be a hawk about it.
When meats are close to their expiration dates, stores will often discount them by as much as 20%. If you're cool with buying meat this close to expiration, this is a good opportunity to buy and either use the food right away or freeze for later (more on freezing below).
Pay attention to deals between the aisles too. Look for any "Buy 1, Get 1 Free" types of deals or discounts on foods.
You can really save a lot of money this way, so get used to keeping your eyes peeled for a good deal.
Stick to a Shopping List
Without a clear list of what you're planning to buy, there's a 99.9% chance you'll end up buying more than you planned. Impulse buys are very real, and they get everyone. Having a list (and only buying what's on that list) is the best way to stick to your budget. This also gets easier as you get more familiar with your store and know what types of deals you can expect each week. Oh yeah, and don't go shopping hungry. Just don't do it! You've been warned.
Use a FoodSaver
Along with freezing, get yourself a FoodSaver to vacuum seal your foods and make them last even longer. Plus, it'll make even more room in the freezer, which you'll need for bulk buying and cooking.
Shop Online
If you can't find the deals you want to locally or are short on time, shopping online is another viable option for saving that $$$.
Check out Amazon for items like nuts, almond flour or coconut flour, coconut oil, flax or chia seeds, and spices. These are often cheaper to buy online than in the store, even with shipping.
Or, you can sign up for Amazon Prime to get that lovely free two-day shipping. They also offer free two-day shipping for six months to students — worth considering if you're still in school. Another online resource is Nuts.com where you can buy nuts in bulk online for a discounted price.
Stick to Cheap Veggies
Buy vegetables that are a good deal and that you can get a lot of use from. Broccoli and spinach are pretty good choices in most areas as far as cost goes, and they can be incorporated into just about any recipe. While cauliflower might not be the cheapest, it's so versatile (cauliflower rice or crust, etc) that it's worth the cost for most people.
Drink Cheap
Quit the pricey "diet" drinks and alcohol — and switch to water. It's what you should be drinking primarily anyway. If you need the caffeine, make your own coffee or tea at home in batches for the week and carry them with you in a mug. No need to make that Starbucks run.
Make Food Yourself
Dressings, dips, flours, salsas, guacamole, nut butters, soups, salads… as much as possible, plan to make anything you could buy packaged yourself. Not only will it save you money, it'll eliminate a lot of added crap that shows up in processed foods at the store. You'll know exactly what you're putting in your body with homemade. Keep these appliances front and center in your kitchen:
Food processor or blender
Pots and pans — you don't need anything fancy, just some cookware that's high-quality enough to boil, fry, etc each week
Knife and cutting board
Jars and containers for storing
Check out these recipes straight from Dr. Gustin if you're not sure where to start! 🙂
This also goes for pre-chopped and frozen vegetables. Instead of spending more, take a little time to chop and store/freeze the veggies yourself.
Don't let budget concerns keep you from making your goals and your health a priority! Use what you have to make this diet work for you, even if it takes a little extra planning and preparing. Use these tips as a guide. You got this.
Now time for the biggest tip with the most impact…
The 10th Ketogenic Budget Tip – Calculate Your Return on Ketosis
Amidst all this penny-pinching we make miss the bigger picture. In the grand scheme, what's really more important than 50 cent coupons is long-term financial health and long-term physical health. Take one-minute test right now and sketch a ledger to find your Return on Ketosis.
Part 1: Quantifiable Return on Keto
Pull out a piece of scrap paper and answer these questions to the best of your ability. Don't spend too much time on it.
What are your meals like on keto vs. non-keto? Are you eating less volume and less frequently?
What are your beverages like? Are you consuming less alcohol and pre workout powder and caffeine?
What are your snacks like? Are you eating fewer snacks due to blood sugar spikes and crashes?
A typical ledger looks like this, just for adding exogenous ketones. Results will vary for everyone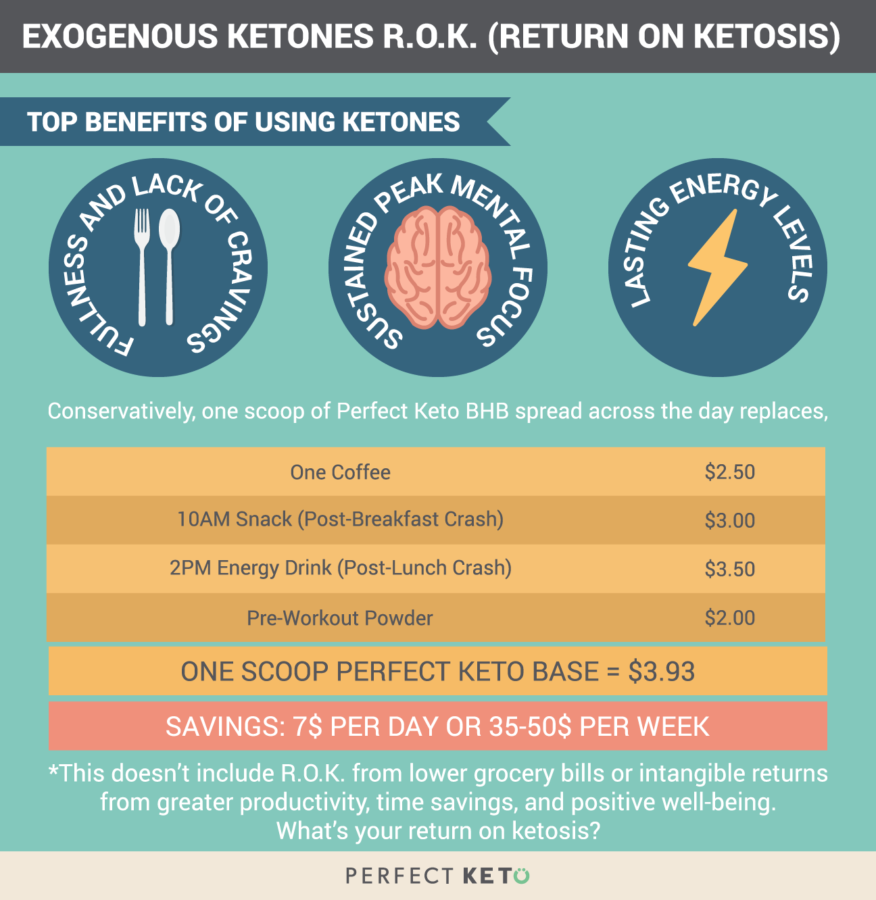 Part 2: Go Deeper into Qualitative Returns
Recall that the benefits of ketosis are:
Mental Performance
Physical Performance
Increased fat-burning
Boost energy for exercise
Increases satiety and feeling full
Psychological Performance
Sense of well-being
Emotional balance
Disease Prevention and Longevity
Ketosis induces improved autophagy and apoptosis, where your body purges dead or underperforming cells to allow for new growth. This has innumerable benefits relating to disease prevention and longevity.
How does this increased productivity, clarity, and well-being affect your bottom line? How would a longer, healthier life increase your lifetime earning potential? This may seem a bit extreme but is it unreasonable? Please share your R.O.K. in the comments or to [email protected]
Summary – Doing Keto on a Budget
A budget is a budget if you are in ketosis or not. Take these nine awesome practical tips to do the ketogenic diet on a budget, but then take a look at the wide-angle lens of your life and examine if ketosis is a worthy investment.
To expand on this topic, and even if keto is not right for you, is the price of being healthy worth it? Don't let budget concerns derail you. Many people in the first half of life waste their health trying to make money and then in the second half of life they spend the money trying to get their health back.
Time to budget your time, energy, and hard-earned money into what really matters to you!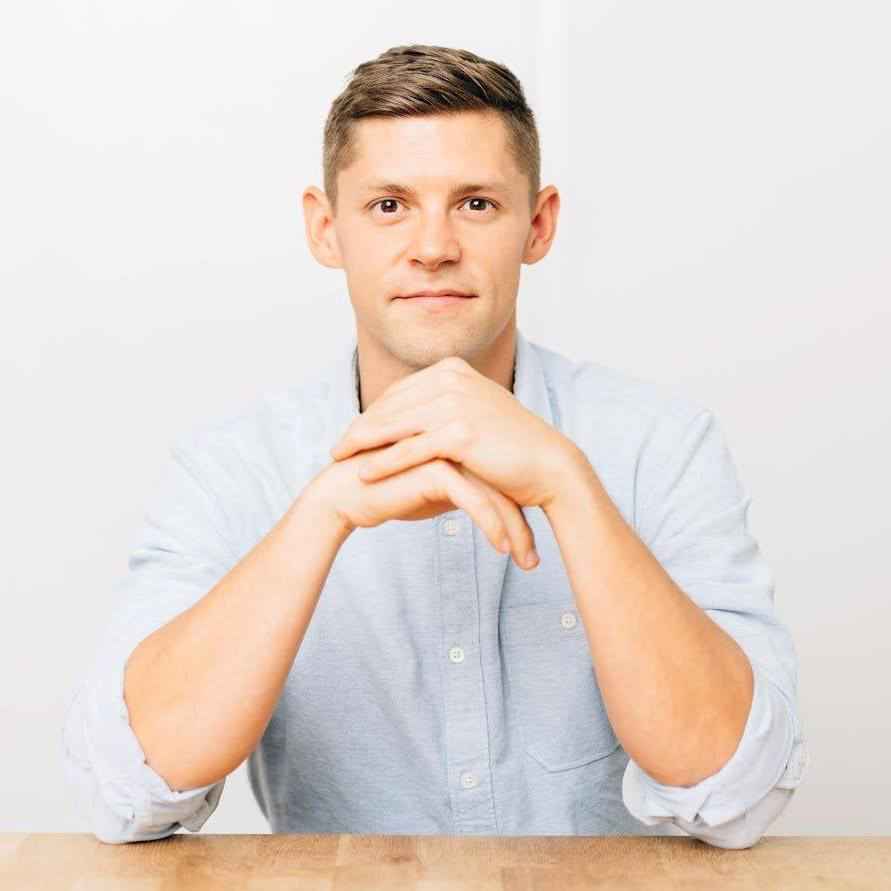 Dr. Anthony Gustin is a board-certified sports chiropractor, functional medicine practitioner, entrepreneur, podcast host, and founder of Perfect Keto.
Over the last few years, he has treated thousands of patients with movement rehab, internal diagnostics, and natural interventions, including NFL, MLB and NBA champions. After growing his sports rehab and functional medicine clinics to six locations in San Francisco, he shifted his mission to help as many people as possible achieve optimal health and well-being.