These days people are constantly on the go.  Everyone is running late and needs to be somewhere at least 10 minutes ago.  It's during these times that diet usually takes a back seat to everything else going on, and people find themselves reaching for less than optimal choices to refuel themselves.  One of the best ways to stay ahead of the game is to be prepared. Easy on-the-go options like Keto Bars or these keto nut butter bars are a wonderful option to have on hand just for these times.  They are filled with healthy fats, rich in nutrients, and are low in net carbs to help keep you in ketosis.
The Main Ingredients in These Bars Include:
Coconut Oil

Pumpkin Seeds
Everyone is familiar with dietary fats like coconut oil, MCT oil, and nuts, but not too many people on a ketogenic diet turn to plant-based sources for healthy fats.  Foods like hemp hearts, chia seeds, and pumpkin seeds will give you a big dose of your favorite macro, and are also rich in many other amazing nutrients.  Pumpkin seeds in particular may seem not be the first to come to mind when you think of health, but actually come with a wide variety of amazing benefits.
Benefits of Pumpkin Seeds:
Rich in nutrients

Phytoestrogens

Restful sleep
#1: Magnesium, Manganese, Copper, and Zinc
Pumpkin seeds are extremely rich in minerals.  These minerals help to balance electrolytes which are vital on a ketogenic diet, help boost immunity, support bone health, maintain cognitive function, and can even help reduce symptoms of PMS.
#2: Post Menopausal Women
The oil found in pumpkin seeds is rich in natural phytoestrogens.  These compounds mimic estrogen in the body which can help reduce hot flashes and mood swings in postmenopausal women as well as reduce symptoms associated with PMS such as bloating, pain, and fatigue.  
#3: Tryptophan
Pumpkin seeds contain tryptophan which is a precursor for serotonin in the body.  This amino acid will then convert to melatonin, our sleep hormone. Eating a handful of pumpkin seeds can help you fall asleep faster and boost the chances of better quality sleep.
Whether you are on-the-go all day and need to refuel, or are looking for an even healthier fat bomb at night, give these nut butter bars a try on your next meal prep day.  Simply store them in your fridge after they are baked and cooled, and they'll be ready to eat.
Print
On-the-Go Keto Nut Butter Bars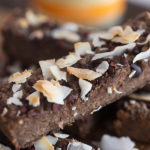 If you're looking for a big dose of amazing nutrients and healthy fats in one little package, just grab one of these easy-bake nut butter bars.
Author:
Prep Time:

5 minutes

Cook Time:

15 minutes

Total Time:

20 minutes

Yield:

8 small bars

Category:

Dessert

Cuisine:

American
Ingredients
2 large whole eggs
4 tablespoons coconut oil
4 tablespoons Perfect Keto Nut Butter
1 cup macadamia nuts
1/4 cup pumpkin seeds
2 tablespoons chia seeds
1 teaspoon vanilla extract
1/4 teaspoon salt
2 tablespoons cacao nibs (optional)
1/4 cup unsweetened shredded coconut flakes
Instructions
Preheat oven to 350 degrees and line an 8×8 baking dish with parchment paper or grease with butter/coconut oil

Add all ingredients (except cacao nibs) to a large food processor or blender. Mix on high until smooth. Pour into prepared dish and flatten.  Sprinkle on cacao nibs and shredded coconut if desired

Bake for 16-18 minutes. Cool, refrigerate to harden, and cut into equal pieces
Nutrition
Calories:

292

Fat:

28g

Carbohydrates:

Net Carbs: 2g

Protein:

6g
Keywords: nut butter bars
Corina Nielsen-Thomas lives in sunny San Diego with her real life super hero and her beautiful daughter. A handful of years ago she was diagnosed with an incurable spinal disease and an array of medical conditions which left her nearly bed bound and losing every aspect of her normal life, one by one. Corina has used a ketogenic diet to turn her life around and now works as a nutritional coach specializing in a paleo/keto way of eating for optimally health and healing. She also works as a full recipe developer and blogger who is passionate about utilizing food as fuel and medicine.