Bone broth is phenomenal for soft-tissue recovery and also during fasts or for a light meal with a side of greens. This recipe makes an incredibly rich, gelatinous broth with great flavor and a deep amber color. Our Perfect Keto bone broth, mixed with turmeric and lemon is just what your body needs to crush inflammation.
What makes bone broth different than soup? The time you take to brew it extracts all the amazing collagen from the animal bones.
Did you know: The word collagen comes from the greek words, kolla (meaning "glue") and –gen (meaning "creating"). Collagen is quite literally the glue that holds our body together and helps us move well.
What is Collagen?
Collagen is a type of protein – 1 of over 10,000 in your body.
Collagen is the most abundant protein in your body (25-35%).
Collagen can be considered the glue that holds your body togetherand directly aids in,

Energy production
Building healthy DNA
Detoxification and digestion
Rebuilding joints, tendons, cartilage, skin, nails, hair, organs, etc. (I'm out of breath)
The unfortunate news is that our body's natural collagen production begins to fall off a cliff at age 25. By age 25, collagen levels are decreased at a rate of 1.5% a year. This is part of the reason why humans generally reach their physical performance peak in their mid-twenties.
Athlete's known for their longevity frequently use collagen in their recovery regimen. Check out this great story from Kobe Bryant, published in The Washington Post last year. If you are short on time, the best way to always have shelf-stable bone broth on deck is to grab Kettle and Fire bone broth or Equip Prime grass-fed beef protein and incorporate them into your diet however you see fit.
Sounds like a no-brainer to me! Do yourself a favor, try this recipe and see how you feel.
PK Pro Tip of the Day: Try making yourself a bone broth with some butter and pure MCT oil powder. You might never be the same.
Enjoy!
Print
Perfect Keto Bone Broth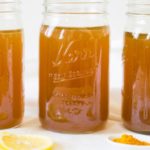 Know the difference between bone broth and just regular chicken stock? Our Perfect Keto bone broth is just what your body needs to crush inflammation.
Author:
Prep Time:

1 hour

Cook Time:

23 hours

Total Time:

24 hours

Yield:

12

Category:

Soups and Stews

Cuisine:

American
Ingredients
3 Pastured Chicken Carcasses (or 4 lbs pastured animal bones)
10 cups of filtered water
2 tbsp. peppercorns
1 lemon
3 tsp. turmeric
1 tsp salt
2 tbsp. apple cider vinegar
3 bay leaves
Instructions
Pre-heat oven to 400F. Place bones on a sheet pan and sprinkle with salt. Roast for 45 minutes.

Next, transfer them to the bowl of your slow cooker (or electric pressure cooker).

Add in the peppercorns, bay leaves,  apple cider vinegar and water.

Cook on low for 24-48 hours.

*For pressure cooking, cook on high for 2 hours, then change the pressure cooker function to slow cook and cook on low for 12 hours.

When done, place a fine mesh sieve or strainer over a large bowl or pitcher. Carefully strain broth.

Discard the bones, bay leaves and peppercorns.

Distribute the broth between three mason jars, about 2 cups each.

Mix in 1 tsp of turmeric to each jar and add 1-2 slices of lemon.

Store in the fridge for up to 5 days.

To heat, gently simmer stove top with a lemon slice.
Nutrition
Serving Size:

1 cup

Calories:

70

Sugar:

0

Fat:

4

Carbohydrates:

1

Protein:

6
Keywords: Perfect Keto bone broth
Cristina Curp is the creative mind behind The Castaway Kitchen, a blog dedicated to delicious foods and healing diets. Food is thy medicine and it should taste damn good.